Japanese speaking Online Data Analysts – Japan (Work from Home)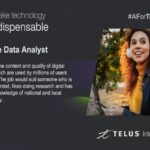 TELUS International AI Data Solutions
Telus International AI Data Solutions
This is a freelance position on a flexible schedule – you can work in your own time whenever work is available. You will be completing research and evaluation tasks in a web-based environment, eg verifying and comparing data, determining the relevance and accuracy of information. You will be provided with guidelines for each task, which need to be followed. The project offers a variety of tasks, and work is paid per task.
Requirements
Full Professional Proficiency in English and Japanese
You must be living in Japan for the last 2 consecutive years
Ability to follow guidelines and do research online using search engines, online maps and website information
You must have familiarity with current and historical business, media, sport, news, social media and cultural affairs in Japan
Being open to work across a diverse set of Task Types (e.g. News, Audio tasks, Relevance)
Applicants must be 18 years or over.
Working on this project will require you to go through a standard recruitment process (including passing an open book assessment). This is a long-term project and your work will occasionally be subject to quality assurance checks.
Interested applicants should follow the steps below to apply:
create an account here:
https://jobs.telusinternational.com/en_US/careers/PipelineDetail/Online-Data-Analyst-Japan/25996
click on "Sign Up" and fill out the required information.
check your email inbox to verify your email and set up your password and account.
Also check your spam/junk folder. Select Japan as your country and Japanese (Japan) as your primary language. Your country and primary language must be set correctly to view this project.
Once you have completed registration, click the "Apply" button to begin the process of applying to the project.
Important notice: TELUS International will never request a monetary deposit for any role or project with the company, and our recruitment and sourcing teams only use @telusinternational.com or @telusinternational.ai addresses when emailing candidates.
If you are unsure as to whether a job offer is legitimate, please contact us at sourcingteam22@telusinternational.ai for confirmation. This is a freelance, independent contractor position.